Welcome to Faith & Hope: the British independent music company that includes Faith & Hope Records (label), Faith & Hope Songs (publishing), and Areebo (synchronisation).

For many years, Faith & Hope formed a pivotal part of the Manchester music scene through our founders – Neil Claxton and David Wood – having the visionary A&R and business skills to sign tracks that featured artistes that were, or would become, household names. We had a string of charts hits, including a 2008 number 1, and you can find Faith & Hope's music on major hollywood films, the adverts of world leading brands, and TV programmes globally.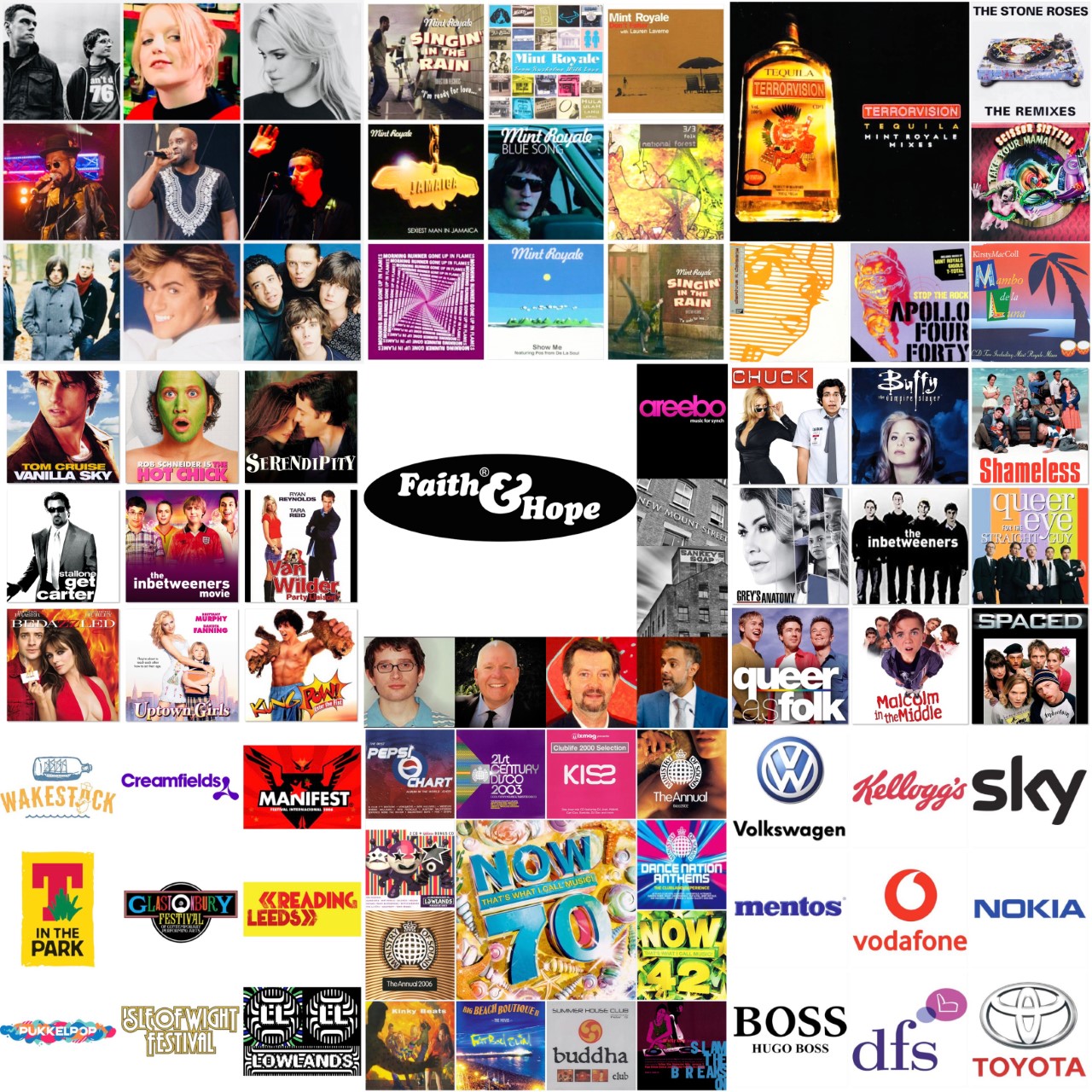 With an ethos of honesty and realism, Faith & Hope's artistes varied massively in style, but all fell under the banner of 'alternative pop' and we became one of the few UK independents to enter major licensing and joint ventures with most major music companies including Universal, EMI, BMG, and Sony. In 2004, The Manchester Evening News said, "Manchester's Faith & Hope Records are already, tangibly, the most successful label in the city". [MEN article]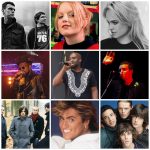 Faith & Hope Featured Artistes
Our featured artistes include:
Mint Royale, Aimee Duffy (aka Duffy), Lauren Laverne, Pos (from De La Soul), Prince Buster, Stone Roses, George Michael, Andy Kim, Stephen Fretwell, Jez Williams, Damien Jurado, Manda Rin, Morning Runner, Siobhan Gallagher, Clodagh Rodgers, Steven Wren, Matthew Greener, Alpinestars, Beats for Beginners, L.C. Anderson vs Psycho Radio, National Forest, Buen Chico, Subaqwa, DJ Dan & Grandadbob, AN2, Nightclubbing, Touriste, Budnubac, Grand Transmitter, Jean Wells, Los Paranoias, Shirokuma, Robbie Roberts, Fraction, Class A, Jake Fletcher and Seeräuber Jenny.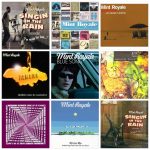 Faith & Hope Chart Hits and Key Tracks
Our hits and key tracks include:
Singin' In The Rain (#1 hit in 2008 and top 20 in 2005), Gone Up in Flames ('The Inbetweeners' tv and film theme tune), From Rusholme With Love (on 'lots' of films), Blue Song featuring Steven Wren and starring Noel Fielding in the video (top 40), Don't Falter featuring Lauren Laverne (top 20), Sexiest Man In Jamaica featuring Price Buster (top 20), Tequilla: Mint Royale Shot Mix (#2 hit), Little Words featuring Duffy, Shake Me featuring Clodagh Rodgers, Show Me featuring Posnuos from De La Soul, Dancehall Places featuring Damien Jurado and Jez Williams, Something New featuring Duffy, Take It Easy featuring Andy Kim, The Effect On Me featuring Jean Wells, Elephant Stone Mint Royale Remix (Stone Roses Remixed), Wham! Bar featuring George Michael.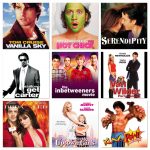 Faith & Hope Film Credits
Our music on major hollywood films and award-winning films include:
The Inbetweeners theme tune (starring Simon Bird, James Buckley, Blake Harrison, and Joe Thomas), Vanilla Sky (starring Tom Cruise & Penélope Cruz), Serendipity (starring John Cusack & Kate Beckinsale), Get Carter (starring Sylvester Stallone & Miranda Richardson), The Hot Chick (starring Rob Schneider), National Lampoon's Van Wilder: Party Liaison (starring Ryan Reynolds), Uptown Girls (starring Brittany Murphy), Blind Dating (starring Chris Pine), New York Minute (starring the Olsen twins), Not Today (starring John Schneider), Kung Pow! Enter the Fist theme tune (starring Steve Oedekerk), A Time for Dancing (starring Larisa Oleynik), Bedazzled (starring Elizabeth Hurley), Boy A (starring Andrew Garfield), Fast Food (starring Douglas Henshall).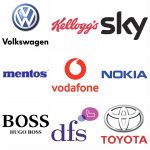 Faith & Hope Advertising Credits
Our music on the adverts of World leading brands include:
Volkswagen Golf GTi (The 'Gene Kelly' Ad), Hugo Boss Pure Purple, Mentos Air Action, Kellogg's Cornflakes, Nokia 6230 Phone, Toyota, AT&T, Honda, Vodaphone, SKY (Subscribers) Jaguar, X Factor, Mars, DFS (Sofas), BBC Radio 1 (DJ TV campaign) and many more.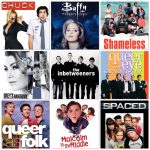 Faith & Hope Television Credits
Our music on TV programmes globally include:
The Inbetweeners theme tune (UK), Britain's Got Talent (UK), Chuck (US), Alias (UK), Spaced (UK), The Priory theme tune (UK), Mighty Boosh (UK), Malcolm In The Middle (UK), Shameless (UK), Strictly Come Dancing (UK), Queer As Folk (UK), Hotel Babylon (UK), Queer Eye for the Straight Guy (US), Buffy the Vampire Slayer (US), Grey's Anatomy (US), Big Brother (UK), Make Me A Million (US), So You Think You Can Dance (Australia), Good Morning Britain (UK) .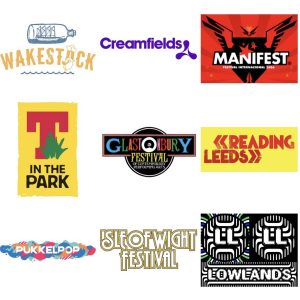 Faith & Hope Live Credits
Our artistes appeared live at:
Glastonbury (England), T In The Park (Scotland), Wakestock (Wales), V Festival (England), Homelands (England, scotland, Ireland), Leeds & Reading (England), Creamfields (England), Lowlands (Netherlands), The NME Awards (UK), Pukkelpop (Belgium), Isle Of Wight Festival (UK), Manifest (Mexico), Benicàssim (Spain) plus many more. Our artistes TV appearances included Top of the Pops, CD:UK, The Priory, Born Sloppy, Popworld, Big Breakfast, Channel 4's T4.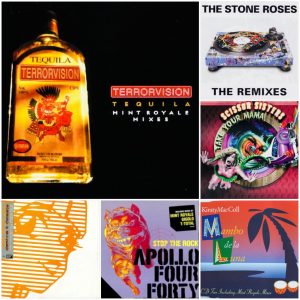 Faith & Hope Remix Credits
Our artistes remixes include:
Terrorvision ('Tequila' track. Our Mint Royale remix was a UK #2), Stone Roses (Elephant Stone remix was on their 'The Remixes' album). Scissor Sisters, Kirsty MacColl, Apollo Four Forty (Stop the Rock), Daphne & Celeste, Placebo, Soulwax and many more.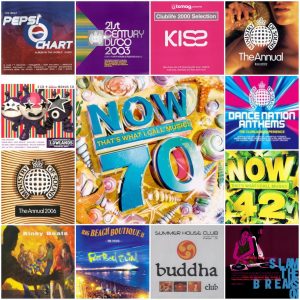 Faith & Hope Compilation Credits
Our tracks appeared on many compilations including: 
NOW That's What I Call Music! 70, Ministry of Sound Annual, Top Of The Pops, Dance Nation Anthems, The Annual Ibiza, Pepsi Chart, NOW That's What I Call Music! 42, 21st Century Disco, and many more.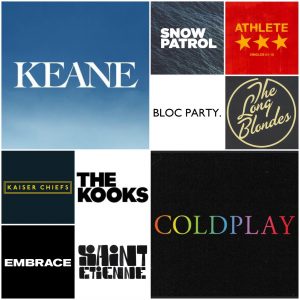 Faith & Hope Artistes Support Credits
As well as many headline gigs, our artistes supported:
Coldplay, Snow Patrol, Athelete, Bloc Party, Embrace, The Long Blondes, The Kooks, Kaiser Chiefs, Keane, Saint Etienne, and many more.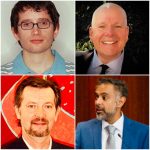 Faith & Hope Records Limited was established in 1997 by Neil Claxton (founder, director and head of A&R) and David Wood (founder and chief-executive officer). The year later, Amul Batra (general manager) joined the company; and in 2002, we were delighted to welcome Doug D'Arcy into the company as an equity shareholder.

Listen to Faith & Hope's tracks and albums and read more about us at the Independant Newspaper's Label Profile on Faith & Hope.

Although Faith & Hope ceased signing and releasing new material in 2007, today, we continue to work our back catalogue.