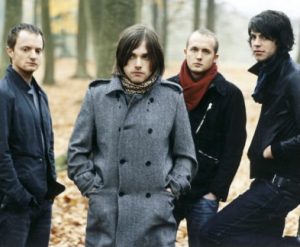 Morning Runner's line-up was Matthew (Guitar & Vocals), Tom (Bass), Fields (Keys) and Ali (Drums). The Reading-based band accomplished a huge amount quite quickly and signed to Faith and Hope Records in 2003.
After putting out The Great Escape 7″ EP in 2004 the band played numerous gigs around the country before being picked up by Parlophone. This led to the band signing a long term deal with Parlophone Records and Faith & Hope in November 2004 and paved the way for extensive touring through the end of the year and set the scene for a busy 2005 schedule.
Both The Guardian and Steve Lamacq were fans of the band with the boys being named as The Guardians' "Ones to watch for 2005" and Steve Lamacq's "My New Favourite Band".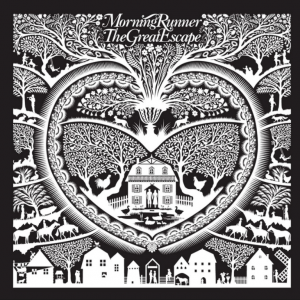 Having had support slots with bands including Coldplay, Snow Patrol, Athlete, Ian Brown, The Pogues, The Music and Bloc Party; the band went in the studio with legendary producer John Cornfield to record their hotly anticipated 2005 EP at his legendary Sawmills studio in Cornwall. John – who had been short listed in the 'Best Producer' category for the 2004 Q magazine awards for his work on Absolution by Muse – is a world class producer who's recording credits include many of the worlds greatest bands including Muse, The Verve, Oasis, Supergrass, Feeder, and Stone Rose.
In June 2005 Morning Runner were confirmed to play Glastonbury festival; and the V festival Volvic Stage at Chelmsford on the Saturday (20th August) and Weston Park on the Sunday (21st August). After finishing touring with Coldplay, confirmation of a 'T In The Park' slot also came in for around the release of their 'Gone Up In Flames' single. The fabulous video for 'Gone Up In Flames' went straight on to the play list on MTV2; and the track entered the Radio 1 'Upfront Playlist' that consisted of five new tracks from emerging artists that got daytime plays, and they played a great live set at Somerset House when they supported Athlete despite the fact that Matthew had laryngitis. The release date for 'Gone Up In Flames' was Monday the 1st of August 2005 and was the bands debut single from what became their debut studio album 'Wilderness Is Paradise Now'. The release was a 7″ [R6669] with 'Gone Up in Flames' as the A-side, and 'Leave Me Alone' as the B-side. We also released a Maxi-CD [CDRS6669] with 'Gone Up in Flames' – 'Leave Me Alone' – 'Work' (acoustic track ) – and the 'Gone Up in Flames' video.
An instrumental version of 'Gone Up in Flames' went on to be used as the main theme tune to the BAFTA award-winning sitcom 'The Inbetweeners', the 2011 film 'The Inbetweeners Movie' and is featured for the end credits of the 2014 film 'The Inbetweeners 2'. It was also used on the soundtrack of FIFA 07.
The week of the release was crazy for the band as they were on the road from Monday on a Headline UK tour playing  1st August – Barfly, London / 3rd August – Somerset House (supporting Athlete) London / 5th August – Bierkeller, Manchester / 6th August – King Tuts, Glasgow / 7th August – Fibbers, York / 10th August – Little Civic, Wolves / and 11th August – Ifor Bach, Cardiff. The response was crazy and we had to add an extra London gig at the Barfly completely sold out so they also played the Camden's Koko on Friday 12th August.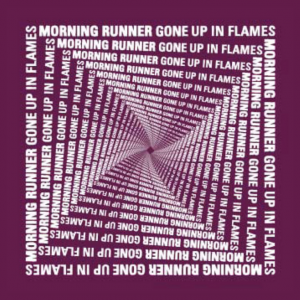 We knew very quickly that we had a hit on our hands and we scored a Top 40 when the single reached number 39 in the UK Singles Chart and the UK's third biggest selling piece of vinyl that week. Their storming 5.20pm sets at the following weekend's V Festival in Chelmsford and Weston Park on the Volvic Stage were triumphant which set up a successful October headline UK tour when they played on the: 19th: Brighton Hanbury Ballrooms / 20th: Birmingham Barfly / 21st: Sheffield Fez Club / 22nd: Leeds Cockpit / 24th: Manchester Night & Day / 25th: London Kings College / 26th: Reading Fez Club / 28th: Liverpool Barfly / and the 29th: Glasgow King Tuts / and in between their Leeds and Manchester gigs, they made their first TV appearance on channel 4's T4 (23rd October).
Between all this live gigging, the band were heading back to the studio recording their debut album.
Their next single 'Be All You Want Me To Be' was added to the Radio 1 upfront playlist, 6 Music's B list, and XFM's C list; with was released in the middle of their tour on the 24th of October 2005. It was available on both CD single (which was about £2) and two collectable 7″ vinyl's (at about £1 each). The following week, the band made their debut appearence on 'Top Of The Pops' (on BBC2 on a Sunday at 7pm in those days) and the presenter Fearne Cotton announced them by saying "I'm really excited about this next band being in the studio… they're the best thing to come out of Reading ever" At the end of the performance, Fearne clearly loved the boys and said "what a glorious mellow beat of a song" and described them as "Brilliant, a great new band".
Morning Runner then headlined a soldout Carling Live Session at London's Barfly on Thursday 8th December; headlined the 16th Tiscali Showcase at the London Islington Bar Academy the next night with support from Gravenhurst and Broken Dolls; and played the XFM Winter Wonderland on Monday 12th December at Brixton Academy.
We released their track 'Have a Good Time' as a very special limited run of 500 7″ vinyl which was only available from 'independent record stores' and not te likes of  HMV etc.
2006 started brilliantly for Morning Runner. Their next single 'Burning Benches' got it's first airing on Radio 1 as Steve Lamacq's 'Single Of The Week'; was also played by Jo Whiley who raved about the band and their forthcoming album;  and Scott Mills made it his 'Single Of The Week' . January also saw a tour supporting Stephen Fretwell when they payed 11th: Glasgow Garage / 12th: Manchester Ritz / 13th: London SBE / 14th: Birmingham Irish Club / 15th: Leeds City Varieties / 18th: London Dublin Castle. The radio success continued with the single entering the Radio 1's 'C' play list, then moved up to the Radio 1 'B' list
The single 'Burning Benches'  was planned for release on February 20th which led to their longest tour through February and early March which included: 1st: London Dublin Castle / 2nd: Bedford Angel / 3rd: Nottingham Social/ 4th: Bristol Louisiana / 6th: Coventry Coliseum Club night / 7th: Stoke Sugarmill / 8th: Leicester Charlotte / 10th: Northampton Soundhaus / 11th: Peterborough Met Lounge / 12th: Woverhampton Little Civic / 14th: Oxford Zodiac / 15th: Exeter Cavern / 16th: London Brixton (supporting Magic Numbers) / 19th: Brighton Komedia / 20th: Southend Chinnery's / 21st: Southampton Joiners / 22nd: Reading Fez / 24th: Sheffield Leadmill / 25th: Liverpool Zanzibar / 27th: Newcastle Cluney / 28th: Aberdeen Tunnel / and continued in to march with them playing on the: 1st: Glasgow King Tuts / 3rd: York Fibbers / 4th: Leeds Cockpit / 6th: Manchester Night and Day / and 7th: Cardiff Barfly.
Morning Runner performed their new single 'Burning Benches' on channel 4's T4 and Popworld programmes as well as appearing on CD:UK, and a live session on the Dermot O' Leary Radio 2 show .
So the week of the release went well. The Morning Runner boys had been playing sold out shows all over the country, 'Burning Benches' had been record of the week 3 times on Radio 1. Matt and Fields played a cracking Radio 2 live session. We got to see the band play live on CD:UK, and lets not forget that Popworld interview. Then great news! Morning Runners 'Burning Benches' entered the official UK single charts at number 19.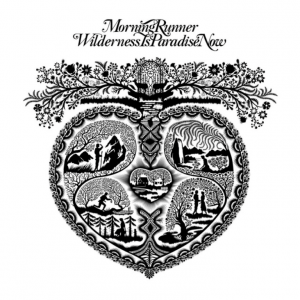 Then, the waiting was over! Their debut album 'Wilderness Is Paradise Now' was out and we organised a 'Meet Morning Runner' where the band played instore and signing copies of their debut album 'Wilderness is Paradise Now' at FOPP Manchester (6th March), HMV, Oxford St, London (8th March),  FOPP, Brighton (9th March) and FOPP Nottingham (10th March). The track listing was: 1. It's Not Like Everyone's My Friend / 2. Have A Good Time / 3. Gone Up In Flames / 4. Burning Benches / 5. Hold Your Breath / 6. Oceans / 7. Great Escape / 8. Be All You Want Me To Be / 9. Punching Walls / 10. Work / 11. Best For You.
Morning Runner had a busy Summer line-up of gigs and festivals. As well as their Embrace support tour; Morning Runner had summer festival appearances with slots at Guilfest, V, Oxegen, T In The Park, Summer Sundae and the Benicassim Festival in Spain. Their 2006 summer went: 9th June Isle Of Wight Festival / 10th June THETFORD FOREST, Suffolk (Supporting Embrace) / 11th June BEDGEBURY PINETUM, Nr Goudhurst, Kent (Supporting Embrace) / 16th June WESTONBIRT ARBORETUM, Gloucestershire (Supporting Embrace) / 17th June DELAMERE FOREST, Cheshire (Supporting Embrace) 23rd June SHERWOOD PINES FOREST PARK, Nr Edwinstowe Notts (Supporting Embrace) / 24th June CANNOCK CHASE FOREST, Nr Rugeley, Staffs (Supporting Embrace) / 25th June DALBY FOREST, Nr Pickering North Yorks (Supporting Embrace) / 8th July Oxegen Festival, Punchestown, Ireland / 9th July T In The Park Festival, Scotland / 14th July Guilfest Festival / 22nd July Benicassim Festival / 3rd August Summer Sundae – De Montfort Hall, Leicester / 19th August V Festival – Stafford / 20th August 2006 V Festival – Chelmsford.
Morning Runner opened the 2006 Isle Of Wight Festival at 5pm when Ali, Fields, Matt & Tom walked out on stage and opened the first major music party of the summer… and they went down a storm. Towards the end of June, their new single 'Oceans' was Radio 1's Colin and Edith's 'CD Burner' and therefore played it everyday for a week. Morng Runner's video for Oceans was filmed in New York; and by mid July, Morning Runner were playing the main stage at the Guilfest festival with a live recording from the festival been broadcast on Radio 2 at a 9:00pm Saturday evening slot, and an exclusive interview with Morning Runner. The 'Wilderness Is Paradise Now' campaign finally came to an end in August 2006 with a final homecoming concert in Reading and a trip to Mexico to play a headline gig at Manifest.
Morning Runner began working on their second album in September 2006; but the month after the band announced they were to split. A band – and four guys – who we adored, were no longer Morning Runner.