Shirokuma – which means "Polar Bear" in Japanese – started in mid-2000 and had over ten tracks played on the dearly missed John Peel's Radio One programme.
He was based in Manchester when we signed him, and had been DJ'ing his own stuff and other experimental Japanese electronic pop as well as planning occasional small, but theatrical gigs.
His style was mainly warm, poppy electronica / folk broadly influenced by musicians like Can, Pizzicato 5, Cornelius, Serge Gainsbourg and Boards Of Canada.
"I'm fairly prolific and have loads of tracks finished on my (lo-fi but flexible) home based studio" Shirokuma commented at the time, "I'm essentially doing Shirokuma as a solo project, and work with treated vocal samples and friends from Japan and the UK who feature on my songs".
Shirokuma worked with all original generated loops on his sampler but also sang and played guitar and keyboard.

In early Febuary of 2005, Shirokuma played Xfm Sessionand was interviewed. He played a lap topset featuring tracks from his Don Quixote EP, and new ones from his album 'Secret Moves at the Midnight Chess Club.
We had amazing demand in Asia for Shirokuma when the album 'Secret Moves At The Midnight Chess Club' was released. Although the album was not being released until May 2005, it was advertised on a pre-sales basis on many websites including CD mall, IMBC, Melon, CD Box, My Listen, Gaseum, Click Box and SM Town in Japan, Korea, China and most of South East Asia. David Wood from faith & hope said, "We always knew that Shirokuma's warm, poppy Jap-electronica folk style would appeal to J-pop fans in Asia but we've been totally overwhelmed by the interest and demand for the album. We'd now like to find record labels and distributors who will help us fulfil this demand".
At the beginning of March 2005, we announced a Shirokuma – Collectors Edition Double 10" vinyl release" of "Moonlight In The Afternoon" to come out in June 2005. The dearly missed John Peel's favourite maverick J-pop genius was "Shirokuma" who NME said, "makes us want to have sex in dressing up clothes". Described as "The missing link between Stereolab and Cornelius" this was a really cool record, which was in short supply due to the worldwide demand. The Collectors Edition Double 10" had on 'Vinyl One': 1. Moonlight In The Afternoon (The Original) / 2. Spraypaint / 3. There Is Such A Place… and on 'Vinyl Two': 1. Moonlight In The Afternoon (Max Tundra Mix) / 2. Moonlight In The Afternoon (Andy Votel Mix) / 3. [I honestly can't remember].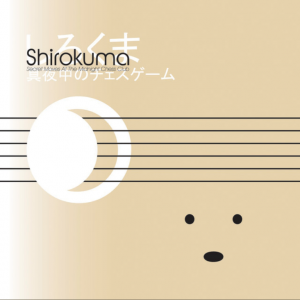 Around this time, we were proud to announce that Feel Music of Seoul Korea was the exclusive licensee of Shirokuma's debut album "Secret Moves At The Midnight Chess Club". Feel Music, established in 2000, was a record label that licensed and marketed international music. It releasee all genres of music including Crossover, Pop and Jazz. Feel Music was excellent at developing and marketing undiscovered, but promising, artists from all over the world. With music you've never heard before, Feel Music was creating the key to unlock a whole new world of excitement and dreams.
Feel Music's President at the time was Jay W. Sung who had previously being with Jigu Records, Sony Music and the Orange label in Korea. He had worked as a pop music journalist in radio and music mags until he left Korea in 1997 to study the music business in the U.S. After graduating, Jay moved from Colorado to L.A to join Restless Records. With Jay's marketing Director Helen Won, who also worked at Sony Music Korea, David Wood said, "Shirokuma now has a wonderful home in Korea run by an extremely professional management team".
By June 2005, Shirokuma's 'Moonlight In The Afternoon' was Steve Lamacq's Single Of The Week on his BBC 6Music show. This was followed by National plays from BBC Radio 1 , 6Music, and XFM; and Regional Radio plays on BBC Newcastle, Cleveland and Nottingham, Pure, Delta, Oban, Blast, 2FM and Vibe. The underground dance Internet station: Radio Magnetic entered it on to their A list.
Towards the end of June 2005, Shirokuma's eagerly awaited debut album 'Secret Moves At The Midnight Chess Club' was in the shops. Described as "a charming little LP from the always interesting Faith & Hope", the album had rave reviews from the exuberant Spill Mag review saying "This album skips along like a pair of happy horny honeymooners clutching a bag of Mediterranean melodies and western beats while they waft through an oriental airport's arrival's lounge" to the thoughtful DJ Mag saying "Secret Moves At The Midnight Chess Club is ostensibly an anthology of perfectly formed flights of artistic fancy".
The album was Faith & Hope catalogue number FH047CD which was distributed by Vital.
ALBUM TRACK LISTING
Secret Moves At The Midnight Chess Club by Shirokuma
1. Moonlight In The Afternoon / 2. Botanical Sector / 3. At Midnight…Sometimes / 4.Nico's Needles / 5. C90 Compilation / 6. Digital Dragonfly Theme / 7. Cool Pillow / 8. 39, Gentle Drive, Singapore / 9. Town Of Snowy Loops / 10. Waterboatman / 11. Spraypaint! / 12. I Dj Within / 13. (Do The) Spooky Night / 14. Spirit Photography /
Yet's not forget…. Shirokuma was eccentricity personified. This was his question and answer session.
Q) Who are you?
A) We are The Shirokuma Sea of Fertility.
Q) What kind of music can we expect?
A) Japanese goth, pale orange synethesia (*)-fi, 40's S&M Ninja blues with brittle and bass-less mid-fi acoustic arabesques. Whatever gets the kids dancing, basically. Currently writing "Pontianak" concept album based around female spirits of Malaysian supernatural folklore.
Q) Why the music?
A) Shirokuma attempts to pin down something rare and evasive. Success rate of 72%, but failures, of course, are also beautiful. "Creative times are quiet, very secretive, and lustful." -Ingmar Bergman
Q) What's plan B?
A) "J.D. Salinger in a bunker style" fist shaking misanthropy? Other possible career trajectories include Malaysian paranormal investigator / spirit photographer, stigmatic, nomad, hotelier, record label owner.
Q) Anything else you'd like to add?
A) (*) Synesthesia (syn -joined, aethesia -sense) is a neurological rarity in which two or more senses are connected. For example, music might be "seen" in colours and patterns, or taste may be seen in shapes, letters and numbers may have textures, etc. These associations are present from as early as the synesthete can remember, or from the first time the stimuli was presented, for example the first time they smelled cinnamon or when they first learned the alphabet. "Listen carefully to first criticisms made of your work. Note just what it is about your work that critics don't like – then cultivate it. That's the only part of your work that's individual and worth keeping." (Jean Cocteau) Shirokuma's cultural smorgasbord currently tastes of : melt banana, max tundra, kevin ayres, mark hollis, akiko yano, satanicpornocultshop, maher shalal hash baz, momus, nagisa ni te, merzbow, M83, suicide circle, zipang, laputa : castle in the sky, holy mountain, hellish love, ichi, bird people of china, osamu dazai, yukio mishima, anchee min, marcel proust, the filth, maus, rtype leo and janken.
And then this…..
SHIROKUMA: A FAIRLY DIRECTIONLESS RAMBLE ABOUT WHAT MUSIC MEANS TO HIM
I want to keep things. I wish life had memory slots like a Nintendo game for saving your progress. We all do. But you can't go back. Not yet, anyway. Writing songs and recording sounds is a way to document the most passionate, personal, angry, funny, sexy, sad, obtuse, broken, surreal, invincible, moments and emotions experienced. Music isn't just useless mystery…it helps. Even if no one else gives a sh*t.
Music = memory I often record material that becomes a Shirokuma track when there are people around me whose voices and spirit or mood are important to me. Audio (rather than finished music, and in this case I mean the raw material I use to put together a Shirokuma song) isn't quite as powerful as smell as an aid to nostalgia, but it's immediate, warm and readily usable when composing music (which sadly isn't yet the case for smells…although I did once write a track called "Scent Recorder" by way of an open letter plea to Mr Sony). I guess I really want to quit music and remix smells ideally…maybe I should become a perfumer. Maybe I will… maybe I will…
Blunder the Influence Music has different functions…some people can maybe find all they need within one genre (or even artist)… I don't think most people can, though. If music becomes your passion then you filter through and find ever deeper and more twisty avenues to explore. Most of the ideas I had that I thought were pretty original I've since found were previously made by some old Mexican guy in his basement in the 50's, but then that's kind of cool. I'm just a J Edgar Hoover for anything interesting musically, and I always want to hear new stuff, from the most mainstream pop to the most freeform jazz.