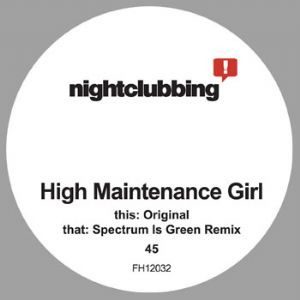 'High Maintenance Girl' was the debut single by curly haired Mancunian, Nightclubbing.
Nightclubbing wrote, produced and sang this glitzy house record in his bedroom all by himself, without the aid of dance music jiggery pokery and massive vocal samples to help him on the way.
Nightclubbing is not a DJ, so you won't find him in your local nightclub playing other peoples records. Instead he will be relying on other people playing his record in nightclubs all over the world.
To help these DJs do this, Nightclubbing has enlisted the help of Irish music maker, Spectrum Is Green who has kindly made another version of 'High Maintenance Girl'.
DJs that are already playing this record in nightclubs are Stuart Patterson, Kenny Hawkes, Miles Holloway, Peace Division, Faze Action, Amalgamation of Soundz, and Les Ryder.