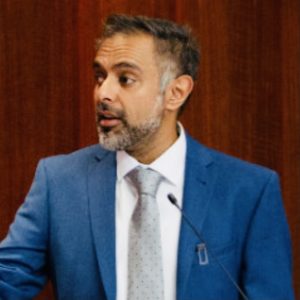 In 1998, the founders of Faith & Hope [Neil Claxton and David Wood] were delighted when Amul Batra joined the company. Amul was the General Manager of Faith & Hope from 1998 to 2004, developed Faith & Hope to be one of the most respected indies outside of London and set up (and ran) Faith & Hope Songs club night 'Art & Science' in Manchester. Amul is now a co-shareholder with Neil, David and Doug D'Arcy.
After spending some time in Japan, Amul returned to the UK to establish Fwinki Music in May 2007. With first hand experience of working in management, recording, publishing and the live sectors, he represented: Mint Royale, Fenech-Soler, James Yuill, Bwana, LoFrames, The Answering Machine, Seams, and Farrow.
In October 2016 he became an investor in Northcoders, a director in July 2018, and the CPO (Chief Partnerships Officer) in July 2019. Northcoders is the 'Original Coding Bootcamp' for the North with campuses in the hearts of Manchester and Leeds. They combine highly personalised tuition and career support and educate the brightest junior software developers and find them roles at brilliant Northern Companies.
Visit: Amul's LinkedIn
Find out about: Neil Claxton – David Wood – Doug D'Arcy