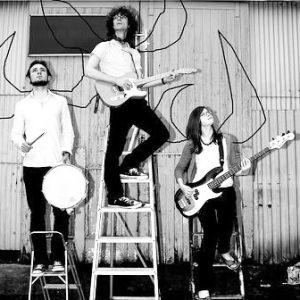 Faith & Hope's 'Buen Chico' Story
So you record your first ep in a day, and 3 weeks later you have the music industry battering down your door. You sign your first management deal… then the rest of your band leave! So went the tale of Morgan, the head honcho & songwriter of Leeds young noise merchants Buen Chico back in the day. Not one to be defeated easily, Morgan picked himself up, dusted himself down and started recruiting new members.
"One sunny summer afternoon in 2003, Morgan met Kirsty in Leeds and they went for a cup of tea. She lied about liking Weezer and knowing her scales, and he didn't talk much. A brand new friendship was born. But a piece of the puzzle was missing. As if by magic, Alan came along a few weeks later via a complex series of events including swing jazz, stag dos, and Leeds' now defunct Sponge Rehearsal Studios. They were all living together as one big happy band.
In their three short years Buen Chico played lots of gigs with such acts as The Long Blondes, The Subways, The Kooks, Kaiser Chiefs, Forward Russia, GoodShoes and The Cribs.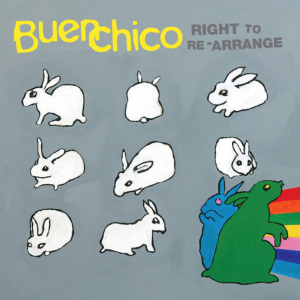 Buen Chico wrote songs which were a fiery mix of pop, new wave, motown, indie and punk, inspired by the likes of Supergrass, The Ramones, The Smiths, Weezer, The Flaming Lips, The Pixies and The Beatles, touching on a wide variety of themes such as love, global warming and keeping your chin up that will hopefully get you dancing around your bedroom, or wherever you happen to be.
Kosten persuaded EMI to stump up some cash and just a week after finishing their A Levels, the band were in the studio to record 2 songs "Killing Somebody" and "I Don't Care", – both turning out to be 21/2 minutes of punky, melodic, pop genius.

Buen Chico went on to win Future Sounds at The Cockpit in Leeds, which gave them the chance to play in front of an adoring crowd at The Leeds Festival.
A gig in London for Fierce Panda alongside Kaiser Chiefs caused NME's 'Queens of Noize' to fall in love with the Chicos; so much so that they included "I Don't Care" on their compilation album "Best of 2005"
The Album went top 10 in the itunes chart, and on the back of this, the band played at the Queens of Noise showcase at The Camden Barfly along with The Long Blondes & The Pipettes.
Buen Chico signed to Faith & Hope records and they put out their first single, 'Giving Your Gifts'.
Zane Lowe played it on Radio 1 and Tom Robinson played it on BBC 6music.