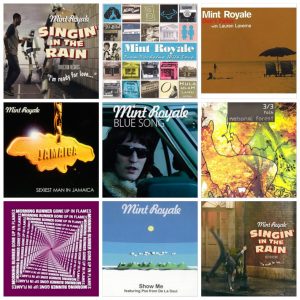 Faith & Hope's hits and key tracks include:

Singin' In The Rain (#1 Hit in 2008 and Top 20 in 2005)
Mint Royale's 'Singin' In The Rain' was a Number 1 Hit in 2008 for us after knocking Rihanna's "Take a Bow" off the number 1 spot. It had previously been a Top 20 Hit in 2005 for us. It was the 5th track off Mint Royale's album 'See You in the Morning' and here's the Singin' In The Rain Video. The track was used on the award-winning VW Golf GTi 'Gene Kelly' TV Advert.
Gone Up in Flames (The Inbetweeners Theme Tune)
Morning Runner's 'Gone Up in Flames' is an interesting part of the Faith & Hope story. After signing Morning Runner, we entered an agreement with Parlaphone and this single was a Top 40 Hit in 2005 after it reached number 39 in the charts. The track became famous worldwide as The Inbetweeners Main Theme Tune for the BAFTA Award-winning TV series, 'The Inbetweeners Movie', and on the soundtrack of FIFA 07.
From Rusholme With Love (On 'Lots' of Films)
Mint Royale's From Rusholme With Love is possibly the most heard track we've relased as it appears in the Tom Cruise and Penélope Cruz film 'Vanilla Sky'; the John Cusack and Kate Beckinsale film 'Serendipity'; the Sylvester Stallone and Miranda Richardson film 'Get Carter' (the 2000 remake); the films 'Blind Dating', 'New York Minute' and it's the theme tune for the film comedy 'Kung Pow! Enter the Fist'
Blue Song (Top 40 – Noel Fielding in the Video)
Mint Royale's 'Blue Song' featuring the vocals of Steven Wren was a Top 40 Hit in 2003 for us after it entered the charts at #35. Directed by Edgar Wright, The 'Blue Song' Video starred Noel Fielding, Julian Barratt, Nick Frost and Michael Smiley; and is accepted as the origins of the 2017 film 'Baby Driver' after Edgar told NME, "[Blue Song] was basically a dry run for this movie," he continued, "It's somewhat similar to the opening scene of Baby Driver". Here's Blue Song & Baby Driver side by side. Also take a look at 'Mint Royale performing Blue Song Live on ITV 1 – Live at T in the Park – Live on C4's Born Sloppy.
Don't Falter (Top 20 featuring Lauren Laverne)
Mint Royale's Don't Falter featuring Lauren Laverne was a Top 20 Hit in 2000 for us after it entered the charts at #15. It's still Lauren's biggest chart success, and she went on to present 10 O'Clock Live, The Culture Show, Glastonbury Festival (BBC), NME Awards, BBC Radio 6 Music, Desert Island Discs; and appeared on Mock the Week, Have I Got News for You, Never Mind the Buzzcocks, and Would I Lie to You? There was a US Don't Falter video too.  Mint Royale and Lauren interviewed on Big Breakfast.
Sexiest Man In Jamaica (Top 20 featuring Price Buster)
Mint Royale's Sexiest Man In Jamaica features the ska legend Prince Buster and it gave us a summer Top 20 Hit in 2002. Although we had a mainstream chart hit, let's not forget that this was a massive club track that attracted the influential backing of Pete Tong, Seb Fontaine, Judge Jules, Danny Rampling and Fat Boy Slim Played SMIJ to over 250,000 at his 2002 Brighton Beach gig. The track was on Top of the Pops, on MTV's top 500 video play list of 2003, and even Prince William loves SMIJ (yes, we did tell Buckingham Palace aides to go and buy it from his nearest record shop) and it was on the Royal Wedding Playlist.
Tequilla: Mint Royale Shot Mix (#2 Hit)
Awarded 'Best Single' at the Kerrang! Awards, Tequila (Mint Royale Shot Mix) gave 'Terrorvision' their biggest-ever hit when it reached Number 2 Hit in 1999 after it was championed by Zoë Ball as her 'Record Of The Week' on the Radio 1 Breakfast Show. The promotion for the single was a shared effort between Faith & Hope (for Mint Royale) and EMI (for Terrorvision) as you can see from Mint Royale and Terrorvision appearing together on Tequila on Top of the Pops. Although this was released by EMI, it is very much a key track in the Faith & Hope story.
Right Stuff (featuring LC Anderson)
Psycho Radio's Right Stuff was the first track we licenced in. The Italian Production Outfit 'Psycho Radio' with the vocal talent of LC Anderson was first spun in Miami by Pete Tong. The track, played by a variety of tastemakers including Graeme Park, Ali B, Lottie, Tim Lennox, Gordon Kaye, Dave Clarke (Galaxy), Paul Woolford and Tony Senghore took the track to #3 in the 'Buzz Chart' and #8 in the 'DJ Magazine Hype Chart' led to plays from the likes of Steve Lamacq, Colin Murray, Jo Whiley, James Hyman and MTV.
Little Words (featuring Duffy)
Little Words is a key track in the Faith & Hope story. It was the fourth track of Mint Royale's third album 'See You in the Morning' that was released on the 14th of August 2005; and featured the guest vocals of the 21 year old Welsh singer 'Aimee Duffy'. Three years later, she dropped the 'Aimee', became 'Duffy', and her debut solo album 'Rockferry' was the best-selling album in the UK, won a 'Grammy', won three 'Brits' (including 'Best British Album'), and she had worldwide success.
Shake Me (featuring Clodagh Rodgers)
Mint Royale's Shake Me hailed the release of their 1999 debut album 'On The Ropes'. It received rave reviews and was hailed 'indie dance album of the year' by Mixmag; "truly entertaining pop music" by NME; "a thoroughly unpretentious listen" by Music Week; and was featured in the TV show 'Queer As Folk'. The 'Come Back and Shake Me' sample used for the track was from Clodagh's first and biggest hit which reached number 3 in 1969.
Show Me (featuring Posnuos from De La Soul)
Mint Royale's Show Me features the American rapper Pos from De La Soul and is track 3 on our 2001 MCA Records released 'On the Ropes' album in the US and was a Top 80 in 2001. Mint Royale's original 1999 UK 'On the Ropes' album didn't have 'Show Me' on it; but it was on the 2007 'Pop Is…' compilation album. 'Show Me' is the "The Friday Song" on 'The Morning Show with John Richards' that airs on the Seattle-based KEXP radio station.
Style (On the TV Show Chuck)
The U R Penetrators 'Style' is a key track in the Faith & Hope story as it was the first track we signed for music synchronisation only. In 2008, the American TV Series 'Chuck' had U R Penetrators 'Style' in the show.
Dancehall Places (featuring Damien Jurado and Jez Williams)
Mint Royale's track Dancehall Places is the 5th track from the album of the same name. It features the vocals of Damien Jurado (American singer-songwriter who's also collaborated with Moby and Faithless) and the guitar of Jez Williams (guitarist in the 'Doves').
Something New (featuring Duffy)
Mint Royale's Something New is a key track in the Faith & Hope story. It was the third track of their third album 'See You in the Morning' and the seventh on their 'Pop Is…' album. It features the British rapper 'Class A' and – like Mint Royale's track 'Little Words' – guest vocals of welsh singer Aimee Duffy (aka 'Duffy') before she had her debut solo album 'Rockferry' which was the best-selling album in the UK in 2005, and won her a 'Grammy' and three 'Brits'.
Kill All DJs
After Terry Christian and Conrad Murray put our band 'Beats For Beginners' track Kill All DJs at number 10 in their 2003 Top 40 list; things kicked off and Canada fell in love with the track. It was a Top 40 on 'The Campus Radio Charts' and was used for one of Canada's biggest 2005 summer TV commercials for Toyota.
Take It Easy (Top 75 featuring Andy Kim)
Mint Royale's Take it Easy featuring a sample of Andy Kim's 'Rock Me Gently' was a Top 75 Hit in 2000 for us after it was released on the 24th of April 2000, and entered the charts at #66.
Burning Benches (Top 20)
Morning Runner's Burning Benches was a Top 20 Hit in 2006 after it was released as the lead single and reached number 19. We entered an agreement with Parlaphone and this was Morning Runner's fourth single from their debut studio album 'Wilderness Is Paradise' (which was released on my 40th birthday). Check out Morning Runner playing Burning Benches Live at T in the Park and Morning Runner interview on Popworld.
The Effect On Me (featuring Jean Wells)
Mint Royale's The Effect On Me features a sample of 'Have a Little Mercy' by Jean Wells from 1968. When Mint Royale performed it live, it was sung by MOBO award winning singer Fola, who also starred in the official video. The track is also featured in the Cody Longo and John Schneider film 'and' trailer Not Today.
Rock and Roll Bar (on Buffy…)
Mint Royale's Rock and Roll Bar is an interesting part of the Faith & Hope story because it was the first Mint Royale single we relased on the 2nd of February 1999. Although it only reached number 163 in the charts, it was later picked up by the 'Buffy the Vampire Slayer' team for a 2003 episode.
Elephant Stone Mint Royale Remix (Stone Roses Remixed)
The Stone Roses's Elephant Stone Mint Royale Remix is the sixth track on our Mint Royale 'Pop Is…' and the twelth and final track on 'The Remixes' compilation album by The Stone Roses.
Wham! Bar (featuring George Michael)
Mint Royale's Wham! Bar featuring George Michael.
Oceans
This Morning Runner track was the last released as part of our agreement with Parlaphone. Morning Runner Oceans.
Chalk Circle Album (Our first ever signing)
A massive moment in the Faith & Hope history as this album was the result of us signing 'Subaqwa' in early 1998 when we had our first Manchester office in what Neil [my co-founder of Faith & Hope] calls "the less salubrious end of central Manchester" and what I called "a room on the third floor of the old Sankey's soap". Listen to the tracks… Cody's Snowy Memo – Little Glitches – A.M./P.M. – Backwater – Waving West – Harbour Points – I've Seen This Before – 5 A.M. and Falling – Let It Go – Hotel Silence – The Mountain Is Closed – Ricetones.