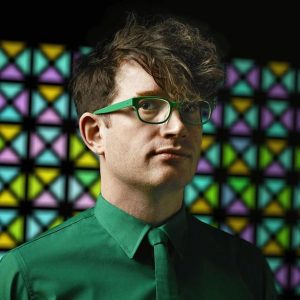 Neil Claxton is the co-founder and director of Faith & Hope Records Limited (and was 'Head of A&R' from 1997 to 2007 when the label ceased signing and releasing new material).
After leaving University of Salford in the early 90's, Neil enjoyed glittering pop success by remixing and producing artists such as, Gabrielle, Urban Cookie Collective, Boyzone, East 17, Doobie Brothers and Stone Roses (to name but a few). Neil quickly became one of the most respected remix producers in the UK working for labels such as Epic, Columbia, Jive, Warners, Polydor, Sony, MCA, and Arista.
From 1997 until 2004, he was one half of Mint Royale with Chris Baker; but after Chris left the band in 2004, Neil continued to produce music solely as 'Mint Royale'.
Neil's live appearances include Glastonbury, T in the Park, Wakestock, V festivals, Homelands, Leeds & Reading, Creamfields, Lowlands, Puckelpop, NME Awards; and TV appearances include Top of the Pops, CD:UK, The Priory, Born Sloppy and Big Breakfast.
His remixes as Mint Royale include the likes of Junior Senior, Har Mar Superstar, Kirsty MacColl, Cut Masters, Apollo 440, Stone Roses, Terrorvision, Younger Younger 28's and Daphne & Celeste.
Neil's advertising syncs include Volkswagen (VW Golf GTi 'Gene Kelly' Ad), Hugo Boss (Pure Purple), Mentos (Air Action Mints), Kellogg's (Cornflakes), Nokia (6230 Phone), SKY, DFS, BBC Radio 1's TV campaign, Super Bowl with Willem Dafoe, Booking.com, AEG Appliances, Indeed Job Site, Currys PC World, Sony (Internet TV), New York City Tourism, and Nike World Cup.
His film music & TV syncs include Stallone's "Get Carter", Rob Schneider's "Hot Chicks", Anthony Hopkins' Bad Company, Tom Cruise's "Vanilla Sky" and John Cusacks "Serendipity". US and UK TV Synchs include Malcolm In The Middle, Spaced, Shameless, Queer As Folk, to name a few.
The compilations he's had tracks on include: Now That's What I Call Music! – Ministry Of Sound Annual – Pepsi – Club life Selection – Kinky Beats – Slam The Breaks On – A Plump Night Out – Abrak A Dubra – Elastic Breaks – Mix CD 1 – Orientations – Urban Underground The Break beat Elite – V 13 – 21st Century Disco 2003 – Big Beach Boutique 2 The Movie – Big Beach Boutique II – Dance Nation Anthems – House Funktion 4 – Liquid Todd Solid State – The Annual Ibiza 2002 – Next Level Breaks – 24 Hour Psychedelic Freak out – A Camping flight To Lowlands Paradise 2003 – Acapella MashUps Volume 5 – Buddah Club Summer House Club – In Tha House Records – Dance Train 2003 Club Edition – Electro Tech – Green Vibes – Total dance Volume III – Grandmix 2003 – Kontor Sunset Chill Vol 5 – Jaguar 2005 Volume 2…. plus others.
Visit: Neil Claxton's LinkedIn