"Exciting, colourful and innovative", National Forest's real name is Dan Cowley. He's from Reading, but when we signed him, he was studying at Hull University at the Scarborough campus.
All his early music was made in his any spare time using a PC, a very cheap guitar, a microphone, some old keyboards and a lo-quality record player. After releasing his first record Soda Lake EP – that sold out on pre sales which was a first for any Faith & Hope release at the time – he continueed to work with us, surprising everyone with his unique style of oddly wistful, non dancing electronic music.
After Soda Lake, he played with the sounds and made them into a full-length album called National Forest that worked beautifully.
National Forest includes among his influences, "nature, funny things that have happen to me, looks you might get from people, dogs, bears, boredom, and lovely ladies!" For more musical influences, it isn't hard to hear his inspiration in the albums: Boards Of Canada, Cat Power, Múm, Mantronix, SFA, J5, Grandmaster Flash, Yo La Tengo.
What is perhaps mad, is that all of these people made their mark on someone so young, and spurred him on to create such an innocently mature first album. National Forest also managed to enlist the help of Manchester singer / songwriter Stephen Fretwell to add a final touch of class and beauty to his album. Stephen performs on "Folk".
Surrounding the release of the album, National Forest released a collection of 3 very rare 7″s called 'Kerrang 1/3', 'Hoboken 2/3', and the third instalment 'Folk 3/3' which were released on the 19th of January 2004.
Those journo types said good things, as Jockey Slut and DJ Mag pinpointed National Forest as a "an act to watch" and "a very promising talent" respectively. The Daily Express described his music as a "lovely affair, full of lush, strange sounds and inspired beeps", and Observer Music Monthly urges you to track down his "lush, rare 7″s".
National Forest was not the only distraction Dan used to fill his time. He also co-organised a club night in Scarborough called 'Bulldozer', and played loud breaks, hip hop, drum+bass, dirty house and bassline-heavy techno. In his own words, "if you like music which makes your ears bleed, bulldozers for you!" Oh yes, he also ran the fanzine "The Permanent Wave" about dogs, art and good songs, and sometimes ventures out of the area to do gigs elsewhere.
NATIONAL FOREST ALBUM TRACK LISTING
1. Soda Lake / 2. Ducks / 3. Casio 81 / 4. Hoboken / 5. – / 6. Hummingbird / 7. Reflex The Tempo / 8. Randy Mamola / 9. Kerrang / 10. Folk (feat. Stephen Fretwell) / 11. Girls Girls Girls / 12. Sea Of Free Electrons
By March 2005, National Forest's eagerly awaited 2nd album forced Dan to return back to the studio as he barricaded himself in so he could complete it. He quickly established himself as being able to deliver innovative and beautiful "non-dancing electronic music" through his debut album; and had also been busy with live DJ dates and the remixes he'd completed for Mint Royale, The Scissor Sisters, Beats for Beginners and Elbow.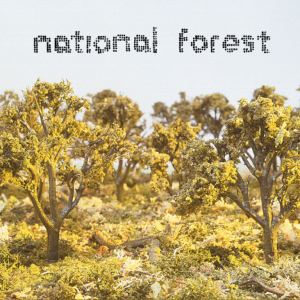 National Forest's debut album had attracted critical acclaim and support from many key music tastemakers including The BBC, Xfm, Music Week and The Daily Express; and on Sunday the 6th of March 2005, he played at the Green Party Benefit Gig at the Night & Day on Oldham street, Manchester. which was a cause close to his heart.
National Forest was in a BBC DJ's Top 20 of 2004 after Terry Christian put the track 'Folk' featuring Stephen Fretwell in his top 20 of the finest tunes of 2004. Faith & Hope's David Wood commented at the time "This is a great boost for National Forest and it's great for us to have two of our releases in Terry's top 20" [the other was Beats For Beginners track 'Technology'].
In April 2005, we were able to confirm that the new album line-up included Jake Fletcher of Grand transmitter, Amanda Mackinnon (aka Manda Rin) of BIS, and Dan himself. Neil of faith & hope says "This album is a real step up from the National Forest debut, with more up-tempo and vocal tracks than before but still interspersed with trademark National Forest instrumentals. It's also a lot more live sounding with live guitar and bass alongside bizarre Atari generated synths. And the vocal tracks are all great….. What more could you want!'.
Listen to National Forest – National Forest

Steve Lamacq was the first Radio 1 DJ to play National Forest's new track 'In Your Makeup'. Steve must have then passed it to fellow 6Music DJ Gideon Coe because he played it on his afternoon 6Music show the following day.
In October 2005 National Forest returned to the spotlight with the release of his new single, 'In Your Makeup' which featured Morning Runner's vocalist Matthew Greener. 'In Your Makeup' was released on 7th of November, and was the first single from National Forest's brilliant second album, 'One Million', an album that he described as 'electronic and melodic, but undercut with salt'. The single was backed with a great remix and two brand new b-sides.
Piccadilly Records (Manchester's leading independent record store at the time) and 'City Life' made the single 'In Your Makeup' their 'single of the week' and BBC Manchester described it as an "ace new tune".
The new year [2006] brought lots to look forward to for 'National Forest' and it all kicked off the weekend of Midem in Cannes, France where the Worlds leading international records labels attended an exclusive preview of his highly anticipated second album 'One Million' which will planned to out in spring.
Shortly after Midem, XFM's John Kennedy was the first to play National Forest's new single 'A.M. Lights' – which was planned for release on the 8th of May – on his X-Posure show swiftly followed by Faith & Hope favourite and fellow XFM DJ Eddy Temple Morris on his shoe 'The Remix'. It was also picked up by great indie stations, 'Solid Steel' on Ninja Tune, 'Into The Void' on MoS Radio, and 'Radio Reverb' were all loving the new album 'One Million' too.
A month before the release of the album, Chris Coco and Rob Da Bank left their popular 'Blue Room' show on Radio 1 in the capable hands of the Trophy Twins and left
instructions that National Forest's 'A.M. Lights' be played on every show for the entire month of April!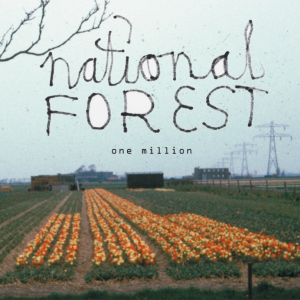 In June, National Forest's "One Million" album was out. The second album had built on the critical acclaim of his debut self-titled album. The first weeks UK sales out paced all expectation and there was alot of interest from abroad. The A.M Lights single had done really well with most independent record stores selling out the 7″ within a week. Leeds based artist Leon Sadler dis National Forest's first ever video and we had phenomenal support from all the fans of National Forest. "One Million" was catalogue FH060CD.
Listen to National Forest One Million