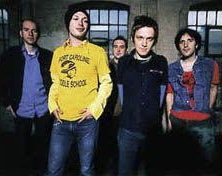 Subaqwa is a massive moment in the Faith & Hope history.
They were the first signing we made in early 1998 when we had our first Manchester office in what Neil [co-founder of Faith & Hope] calls "the less salubrious end of central Manchester".
Subaqwa were Justin Wiggan (vocals); Nick Peill (guitars); Mick Humpage (guitars); Simon Webb (drums) and Rob Tattersfield (bass). The lads met at Art College in Birmingham in 1993, united by a love for American bands like Pavement, the Pixies, early REM and Galaxie 500 as well as the more accessible and poppy sounds of Motown and Northern Soul.
Subaqwa followed a variety of musical paths before seemingly discovering their true musical identity in late 1997. The band recorded an impressive demo and sent it to a variety of record label's, several leading independents were alerted to the bands potential by their live performances and through tip-offs in leading industry magazines including Music Week, Green Sheet and Tip Sheet. After fighting off the competition Subaqwa were signed to faith and hope in July 1998.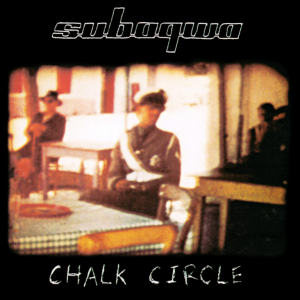 The band temporarily moved up north and began work on their debut album initially called 'Standing With The Engines' in a studio in Huddersfield. While the band were hiring equipment to record the album later to be called 'Chalk Circle', Justin felt left out: "Everybody else had nice equipment and so I thought why not go for Elvis's microphone?".
faith and hope started a search and managed to track one down at a memorabilia hire company in Kent. faith and hope, not wishing to stand in the way of artistic invention did the necessary and the microphone was dispatched to the studio. Unfortunately, despite everybody's good intentions the 1930's microphone's sound quality was dubious and their producer Dave Creffield (the man behind Embrace's number 1 'The Good Will Out' and formerly the keyboardist from 'Sisters Of Mercy') doubted that it would be used in the album. The tale of the mike continued with Ronan Keating bidding for it, then the trail goes cold, only the King knows where it is now.
While recording the album, Subaqwa released their first single through faith and hope 'Let It Go' (15/3/99), there were only 500 pressings made of this limited 7″, it was released on hand numbered vinyl and it sold out within two days of being released. This slow burning maudlin guitar debut captures the deliciously discontented Subaqwa sound perfectly and according to The Record Collector was "Gorgeous, absolutely gorgeous".
The first proper single 'I've seen this before' (23/6/99) was an impressively confident release and bbm commented, "It is rare to hear an English band so obviously-yet comfortably-American" The third single release 'AM/PM' (23/8/99) was again on 7″ and CD was slow and intense with "great harmonica" (Melody Maker).
Their 'Chalk Circle' album was released on both vinyl and CD at the end of August 1999. It is carefully crafted, hugely understated and perfectly carves out Subaqwa's musical beginning.

The album intricately traverses across musical styles, touches emotional chords and incorporates a mixture of influences from early REM, Pavement, Galaxie 500 as well as Neil Young to Joy Division, the Fall and moments from Northern Soul.
The album was hailed as an exceptional debut. NME said it "is a rich, often tearful and fully-rounded soundscape of pop majesty" and Subaqwa "carry melancholy in their pocket like an over-protected puppy".
Select said it is "lovelier than anything REM have recorded in the last five years"; and Q magazine believed that the album contained "many moments of tangled beauty".
They had many tricks up their sleeve and strayed wonderfully into lazy pedal-steel country ballad and harmonica territory, according to the NME – "They'll go far – if the cliff edge doesn't get them first" but unfortunately, there was to be only one album on Faith & Hope.